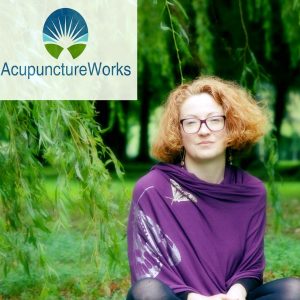 Edel Reilly received her Professional Licentiate in Traditional Chinese Medicine Acupuncture following three years professional training under the guidance of  Professor Jin Hui De, Dr Jidong Wu and Dr Meng Fanyi through the Acupuncture Foundation of Ireland and further clinical practice under Dr. Gu Zhaojun at Nanjing University Second Affiliated Hospital in Nanjing China.  Dr. Gu's extremely busy clinic treated patients suffering from various neurological and muscular-skeletal conditions such as:
Paralysis following stroke
Chronic back pain
Sciatica
Bell's palsy (facial paralysis)
Urine retention
Pharyngitis
Frozen shoulder
Shingles
Migraines
Constipation
Digestive issues
Tennis elbow
Foot and Leg pain
Edel gained practical hands-on experience in treating these conditions working alongside Dr. Gu. During the course of her studies she also received invaluable clinical experience on a weekly basis shadowing Josephine Lynch a practitioner with over fifteen years experience of using Traditional Chinese Acupuncture & Herbal Medicine to treat many conditions including fertility issues and patients going through the IVF journey.
Having worked as a Community Health Development Worker for over 15 years in some of the poorest areas of Dublin, Edel has a keen interest in how our environment , community and lifestyle impact on our potential health and well-being outcomes.  The symptoms of stress both physical and mental are the body's way of signalling that something is out of  kilter. Our bodies mirror how we process our external world.  Sometimes this is only obvious if we  experience a physical injury or trauma but if a symptom or symptoms cause bearable unease we sometimes ignore it until it goes away (even if that takes months) or it becomes a dis-ease.  Addressing such symptoms requires a holistic approach to our health and well being with Acupuncture being a powerful tool to support the changes required.  The majority of patients experience a deep sense of relaxation and calm following an acupuncture treatment.
Edel has undergone specialised training in the following areas:
Motor Point Acupuncture with Dr. Anthony J Lombardi and Rich Hazel
EXSTORE Assessment & Treatment System for Orthopedic conditions with Dr. Anthony J Lombardi
Master Tung's Top Points from Theory to Clinical Success with Brad Whisnant
Clinical applications of Traditional Chinese Medicine as an Adjunctive Therapy in the treatment of Oncology side effects with Dr. Michael McIntyre
Distal Needling Acupuncture (DNA)  with Doane Europe
Treatment of Internal Diseases based on Medical Pulse Diagnosis with Doane Europe
Treating Infertility with Jane Lyttleton
Acupuncture, Gynaecology &  Obstetrics with Debra Betts
How to turn breech babies with acupuncture and moxibustion with Becks Armstrong, Debra Betts, Ineke Van Der Berg & Sarah Budd
Understanding Jing Jin for treating musculoskeletal conditions with David Legge
Qi Gong and Food Therapy  with Dr. Fanyi Meng
Clinical application of Traditional Chinese Dietetics & Energetics of Food with Daverick Leggett
Tongue Diagnosis Workshop with Barbara Kirschbaum
Occupational First Aid Course with Safety Ireland
More recently, Edel qualified as a TCM Herbalist earning a Diploma in the practice of Traditional Chinese Herbal Medicine and when appropriate combines Chinese Herbal Medicine and Acupuncture to support wellness and recovery.  Chinese Herbal Medicine can also be a stand alone treatment for those who have a fear of needles.
Edel continues to study and build on her Chinese medical skills through continued professional development training courses and seminars and is currently a member of the White Pine Institute based in the US, an educational institution dedicated to the advancement of Asian medical traditions.
Edel is a member of the Acupuncture Foundation Professional Association (AFPA), the European Traditional Chinese Medicine Association (ETCMA) and is Vice Chair of the Irish Register of Chinese Medical Herbalism (IRCMH) | Home .  As a member she is bound by a strict Code of Ethics and Practice.
If you would like more information on Chinese Medicine or to set up an initial consultation please contact Edel on 00 353 86 4079430 or email acupunctureer@gmail.com.